Two weeks of sunshine and the king stepped by to celebrate the re-opening of Rotterdam Central station..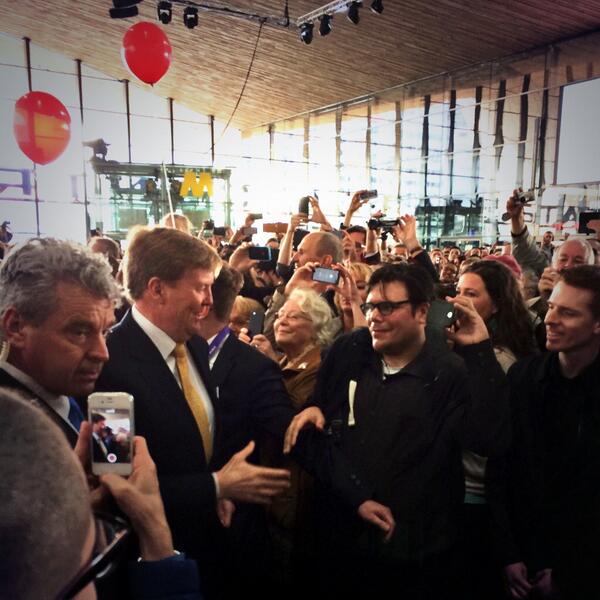 Celebrating the opening of the beloved Rotterdam Central Station with the king.
Customer journey demos
Meanwhile at our studio, we worked on data visualisation and creating interactive maps and diagrams for our customer journey demos. Mattijs and Tjeerd switched from paper to code relatively quickly and iterated the design using D3, mapbox, google maps API and some custom java scripts. Experience has taught us that this is the quickest way of creating a great user experience with interactive maps and data visualisations within a economic timeframe. This sprint was originally planned for a later date, but our client received a surprise invitation to present their products and future vision to prominent potential clients within a month. This meant we had to reshuffle sprints to create compact versions of the customer journeys that can be build, tested and deployed before the presentation date. With the interactive maps and diagrams – the highlight in one of the journeys – nearly done, we are on track to start testing soon.

Iterating the interactive maps and data visualisation design in code.
Coded space, AR and more..
Wouter and Pieter are in the process of finalising offers to multiple new clients. It is a nice mix of work, including consulting, prototyping and user testing on a friendly coded space and a collaborative design and development project with a financial service provider. At the same time Wouter has been demoing our prototype of what augmented reality could truly mean as a compelling user experience. Having worked with the latest AR technologies we firmly believe that creating such experiences has moved from being a technology challenge, to being largely an interaction design challenge. Our first prototype that shows this potential has had great responses and we are currently formalising the contracts to develop it into a full product. Expect more details once the project starts.
Noortje
Noortje has been doing a lot of field research. In her graduation project she is working on ways to make the business side of the graphic designer – client relationship a wonderful experience for all involved. To understand how freelance designers currently deal with it she is researching novice as well as experienced designers. A nice detail in the research tools she created for this is that she asked the participants to draw a self-portrait:
This happened Rotterdam #3
This happened Rotterdam #3 rocked! Piem, Pieter, first time organiser Adriaan and last time organiser Ianus welcomed a more than packed WORM to an evening of inspiring stories behind interaction design projects. Jildw (pronounced Yildow) Albeda showed how Kiss the frog overcame technical difficulties and recreated a 17th century Captain's log from paper, pixels with super thin RFID paper as the magic ingredient. Joris van Gelder (Ministerie van nieuwe dingen) unveiled his magical cocktail maker by creating a Tequila Sunrise. Karel van der Berg (Lely) talked about combining cow behaviour insights with technical skills to create the Astronaut, the world's first commercial milking robot.

Karel van der Berg's talk on the Lely Astronaut milking robot.
Last but not least, one of our favourite artists and fellow Rotterdammer, Marnix de Nijs, showed how the intimidating Run Motherfucker Run came to be. It was an evening to remember with Q&A's with all four speakers continuing during drinks. The video's of this edition will be online shortly, but last month's This happened IXD14 can already be found at: http://www.thishappened.org/events/ixd14-nl-edition, including an insight into the secretive world of automotive UX:

Christian Eckert and Andreas Wegner's talk on designing automotive UX.
Future plans
We are also working on plans for Hoog+Diep in 2018 and are on the look out for new studio space to call home. But more about that next time..